If you have a problem with the position or shape of the jaws,

your bite will be affected.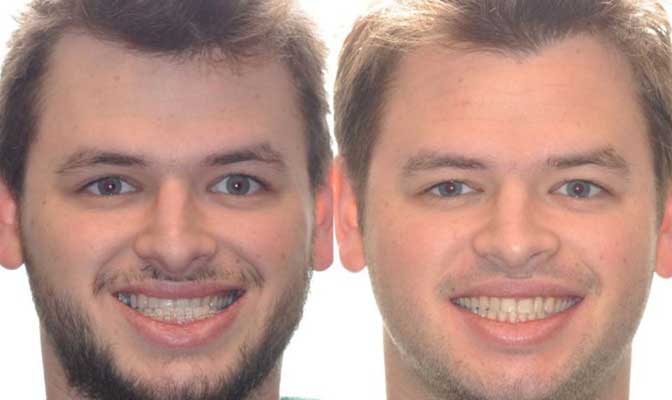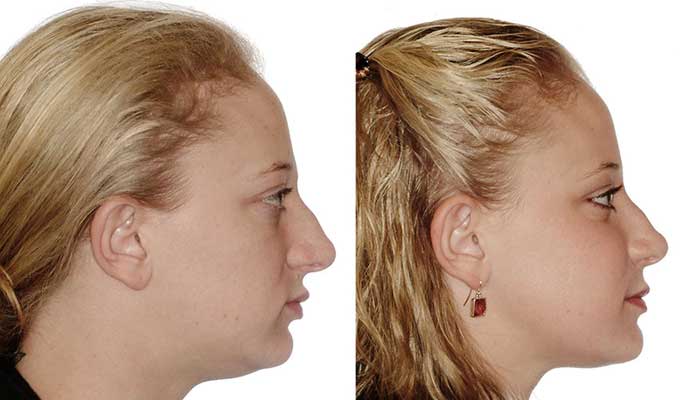 Jaws can be short or long, too wide or too narrow depending on your genetic makeup or growth. It may not be possible to correct a bad bite using braces alone, because the reason for the bad bite may be the bone structure. If you have a bad bite it is not just your appearance that will be affected but it may also cause other problems including abnormal tooth wear, periodontal disease, and possible joint pain.
One of the most common things patients complain about is their profile or how they look when viewed from the side. Profile problems can originate from an imbalance between the position and shapes of the upper and lower jaws.
The inclination of the teeth can significantly

affect your profile.
An orthodontist, like Michelle, corrects crooked teeth and bad bites, while an oral & maxillo-facial surgeon solves problems related to jaw formation and misalignment (skeletal problems). In situations where both conditions are present, it's common for the two specialists to work together, merging orthodontics and maxillo-facial surgery in a combined treatment plan, commonly known as orthognathic surgery. In other complex cases, input from additional dental specialists might also be required. The expected end results of this combined approach to treatment are to improve your facial appearance, the alignment of your teeth, and the upper and lower jaw relationship.
There are many different jaw development and alignment problems that can be solved by orthognathic surgery. These problems may arise from abnormal growth; they may be genetic or even could be caused by an accident or other trauma.
The most commonly corrected

problems include: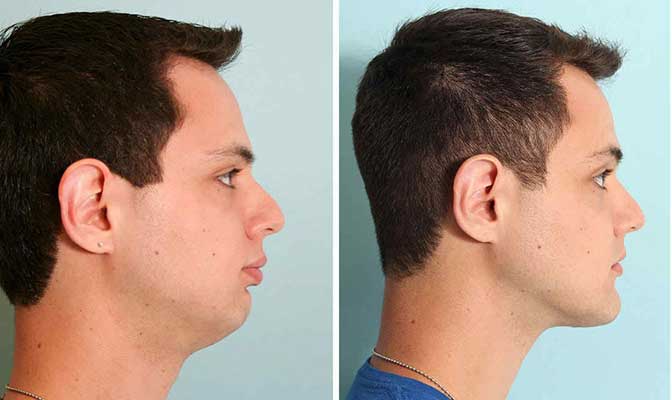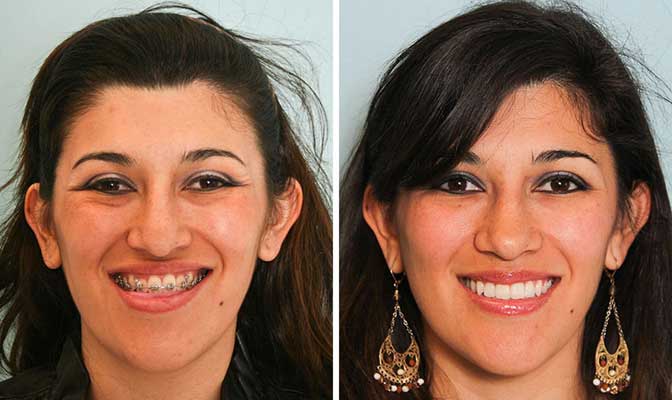 An unsightly display of gum tissue above the upper front teeth
A protruding upper jaw (sticks out too far) and retrusive lower jaw (set back too far)
A protruding lower jaw (sticks out too far) and retrusive upper jaw (set back too far)
Teeth and jaws that point backwards can cause the lip profile to become more retroclined (less prominent)
Teeth and jaws can stick forwards causing the lip profile to become more protrusive (prominent)
Asymmetry (facial imbalance)
Each patient's treatment is planned individually to make sure that the treatment approach is right for them. A full examination of the face and mouth is carried out, which includes impressions of the teeth for models or casts, special x-rays and photographs of the face and teeth. Over a series of appointments with the various specialists, discussions with you will eventually lead to a final treatment plan and the exact course of your treatment will be explained.
In cases where orthognathic surgery is indicated, you may require 12 to 18 months of orthodontic treatment, usually involving braces in order to get your teeth into the best position for optimal surgical results. Surgery is then scheduled when your teeth have been properly aligned. The orthodontic appliances used to align the teeth will usually be left in place during and after the surgical phase to help stabilise the teeth and jaws.
After surgery, most patients are able to return to work or social activities within 2 weeks. Advice on your engagement in sporting activities and foreign travel will be based on your predicted post- surgical recovery rate.
The refinements required to bring your teeth into their final desired position may mean you will have a few months of orthodontic treatment after the surgery.
Whilst it might seem daunting, it is important to understand that if you require surgical treatment it will achieve the best results. Orthognathic surgery is carried out on a much more frequent basis than most people realise and is considered to be a safe way to achieve a total makeover. After combined treatment most patients get the pleasure of benefiting from improved facial appearance, aesthetic profile, dental health and revitalised confidence.