Today, there is an alternative to bulky metal braces. Parents now has the option of treating their Teenagers with clear braces called Invisalign Teen. Its a more discreet alternative to regular braces, and its suitable for the vast majority of teenagers.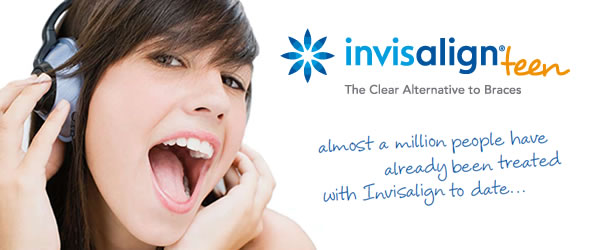 Invisalign has a proven track record with adults, and now Invisalign Teen is boosting the confidence of teenagers by giving them beautiful new smile.
How is Invisalign different?
The aligners are see through and almost invisible
They are made from plastic
They can be removed for specials occasions, but should be worn for 20 hours a day
You wear a new set every 1-2 weeks
In terms of treatment, Invisalign Teen in the hands of a skilled orthodontist, can be used to treat the following smile problems:
Crooked teeth
Poorly spaced teeth
Overcrowded teeth
Overbite
Underbite
Crossbite
Five reasons to choose Invisalign Teen
No sharp bits of metal irritating your child's mouth
No need for special gum shields for sports, just wear your regular one.
No embarrassing metal braces in your mouth!
No problem with cleaning your teeth, just clean as per normal
No breakages, so no missing school
Affordability
At Browne Orthodontics the cost of Invisalign Teen treatment is about the same as treatment with traditional metal braces. Treatment costs vary by the patient, but at Browne Orthodontics we provide flexible payment terms, interest free credit and low deposit options. To get the smile you deserve from a real orthodontist call Browne Orthodontics today on (023) 885 2954 or email us at info@browneortho.ie
How to Choose the Right Orthodontist
Dr Michelle Browne is an expert in Invisalign and all types of orthodontic treatment . She will always talk to you about all your options. We will evaluate your specific issues on your initial consultation. Creating beautiful smiles no matter how challenging it is.